Bizlink Connect Issue #1 2023
͏‌ ͏‌ ͏‌ ͏‌ ͏‌ ͏‌ ͏‌ ͏‌ ͏‌ ͏‌ ͏‌ ͏‌ ͏‌ ͏‌ ͏‌ ͏‌ ͏‌ ͏‌ ͏‌ ͏‌ ͏‌ ͏‌ ͏‌ ͏‌ ͏‌ ͏‌ ͏‌ ͏‌ ͏‌ ͏‌ ͏‌ ͏‌ ͏‌ ͏‌ ͏‌ ͏‌ ͏‌ ͏‌ ͏‌ ͏‌ ͏‌ ͏‌ ͏‌ ͏‌ ͏‌ ͏‌ ͏‌ ͏‌ ͏‌ ͏‌ ͏‌ ͏‌ ͏‌ ͏‌ ͏‌ ͏‌ ͏‌ ͏‌ ͏‌ ͏‌ ͏‌ ͏‌ ͏‌ ͏‌ ͏‌ ͏‌ ͏‌ ͏‌ ͏‌ ͏‌ ͏‌ ͏‌ ͏‌ ͏‌ ͏‌ ͏‌ ͏‌ ͏‌ ͏‌ ͏‌ ͏‌ ͏‌ ͏‌ ͏‌ ͏‌ ͏‌ ͏‌ ͏‌ ͏‌ ͏‌ ͏‌ ͏‌ ͏‌ ͏‌ ͏‌ ͏‌ ͏‌ ͏‌ ͏‌ ͏‌ ͏‌ ͏‌ ͏‌ ͏‌ ͏‌ ͏‌ ͏‌ ͏‌ ͏‌ ͏‌ ͏‌ ͏‌ ͏‌ ͏‌ ͏‌ ͏‌ ͏‌ ͏‌ ͏‌ ͏‌ ͏‌ ͏‌ ͏‌ ͏‌ ͏‌ ͏‌ ͏‌ ͏‌ ͏‌ ͏‌ ͏‌ ͏‌ ͏‌ ͏‌ ͏‌ ͏‌ ͏‌ ͏‌ ͏‌ ͏‌ ͏‌ ͏‌ ͏‌ ͏‌ ͏‌ ͏‌ ͏‌ ͏‌ ͏‌ ͏‌ ͏‌ ͏‌ ͏‌ ͏‌ ͏‌ ͏‌ ͏‌ ͏‌ ͏‌ ͏‌ ͏‌ ͏‌ ͏‌ ͏‌ ͏‌ ͏‌ ͏‌ ͏‌ ͏‌ ͏‌ ͏‌ ͏‌ ͏‌ ͏‌ ͏‌ ͏‌ ͏‌ ͏‌ ͏‌ ͏‌ ͏‌ ͏‌ ͏‌ ͏‌ ͏‌ ͏‌ ͏‌ ͏‌ ͏‌ ͏‌ ͏‌ ͏‌ ͏‌ ͏‌ ͏‌ ͏‌ ͏‌ ͏‌ ͏‌ ͏‌ ͏‌ ͏‌ ͏‌ ͏‌ ͏‌ ͏‌ ͏‌ ͏‌ ͏‌ ͏‌ ͏‌ ͏‌ ͏‌ ͏‌ ͏‌ ͏‌ ͏‌ ͏‌ ͏‌ ͏‌ ͏‌ ͏‌ ͏‌ ͏‌ ͏‌ ͏‌ ͏‌ ͏‌ ͏‌ ͏‌ ͏‌ ͏‌ ͏‌ ͏‌ ͏‌ ͏‌ ͏‌ ͏‌ ͏‌ ͏‌ ͏‌ ͏‌ ͏‌ ͏‌ ͏‌ ͏‌ ͏‌ ͏‌ ͏‌ ͏‌ ͏‌ ͏‌ ͏‌ ͏‌ ͏‌ ͏‌ ͏‌ ͏‌ ͏‌ ͏‌ ͏‌ ͏‌ ͏‌ ͏‌ ͏‌ ͏‌ ͏‌ ͏‌ ͏‌ ͏‌ ͏‌ ͏‌ ͏‌ ͏‌ ͏‌ ͏‌ ͏‌ ͏‌ ͏‌ ͏‌ ͏‌ ͏‌ ͏‌ ͏‌ ͏‌ ͏‌ ͏‌ ͏‌ ͏‌ ͏‌ ͏‌ ͏‌ ͏‌ ͏‌ ͏‌ ͏‌ ͏‌ ͏‌ ͏‌ ͏‌ ͏‌ ͏‌ ͏‌ ͏‌ ͏‌ ͏‌ ͏‌ ͏‌ ͏‌ ͏‌ ͏‌ ͏‌ ͏‌ ͏‌ ͏‌ ͏‌ ͏‌ ͏‌ ͏‌ ͏‌ ͏‌ ͏‌ ͏‌ ͏‌ ͏‌ ͏‌ ͏‌ ͏‌ ͏‌ ͏‌ ͏‌ ͏‌ ͏‌ ͏‌ ͏‌ ͏‌ ͏‌ ͏‌ ͏‌ ͏‌ ͏‌ ͏‌ ͏‌ ͏‌ ͏‌ ͏‌ ͏‌ ͏‌ ͏‌ ͏‌ ͏‌ ͏‌ ͏‌ ͏‌ ͏‌ ͏‌ ͏‌ ͏‌ ͏‌ ͏‌ ͏‌ ͏‌ ͏‌ ͏‌ ͏‌ ͏‌ ͏‌ ͏‌ ͏‌ ͏‌ ͏‌ ͏‌ ͏‌ ͏‌ ͏‌ ͏‌ ͏‌ ͏‌ ͏‌ ͏‌ ͏‌ ͏‌ ͏‌ ͏‌ ͏‌ ͏‌ ͏‌ ͏‌ ͏‌ ͏‌ ͏‌ ͏‌ ͏‌ ͏‌ ͏‌ ͏‌ ͏‌ ͏‌ ͏‌ ͏‌ ͏‌ ͏‌ ͏‌ ͏‌ ͏‌ ͏‌ ͏‌ ͏‌ ͏‌ ͏‌ ͏‌ ͏‌ ͏‌ ͏‌ ͏‌ ͏‌ ͏‌ ͏‌ ͏‌
I am excited to introduce to you the 1st edition of our newsletter - Bizlink Connect. This newsletter represents a new chapter for us as we enter the 2023 financial year with renewed energy and optimism.

At Bizlink Centre, our focus is on supporting Persons with Disabilities (PWDs), those in recovery from mental health conditions, and other disadvantaged groups in training and employment.
We are committed to designing and implementing targeted support programmes to help them progress towards their goals. From the opportunities provided at our social enterprises to our train-and-place programmes built on past successes, we are continuously working to make a positive impact.
We extend our heartfelt gratitude to all our valued partners for your constant support over the years. Your contributions have been invaluable in diverse ways, including community engagement, corporate social responsibility initiatives, valuable expertise and support in advancing our social enterprises, and generous donations to support our cause.
We are excited to continue our journey with your unwavering support and look forward to welcoming new partners who share our vision of doing more and doing better. Together, we can make a meaningful difference in the lives of those we serve. Thank you for your continued support, and we are excited about the possibilities ahead.
~ CEO Li May
In Partnership with our Beneficiaries
Behind the Scenes: A Glimpse into the Life of an Occupational Therapist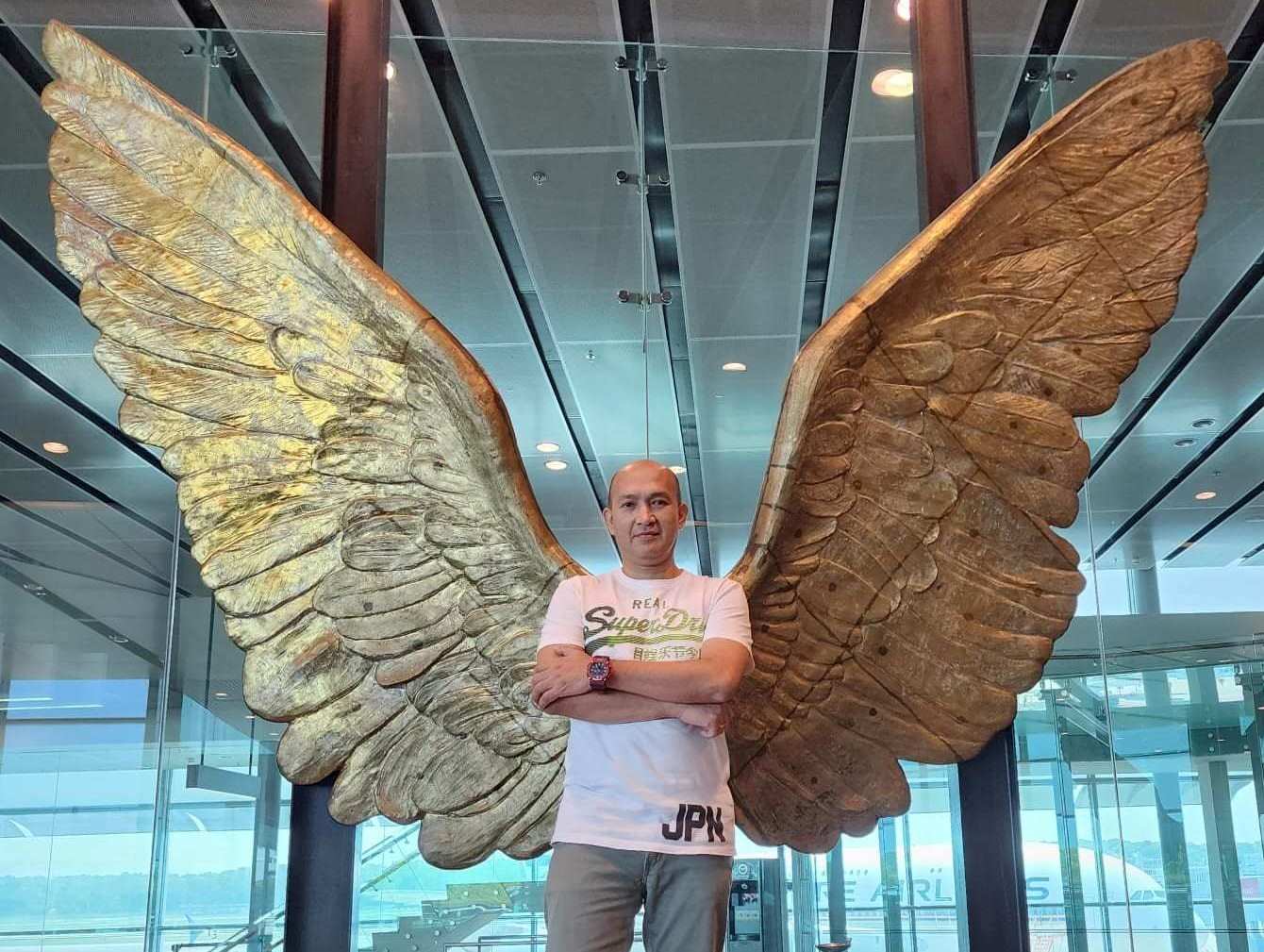 A Senior Occupational Therapist with over 25 years of experience, Anquillano Vincent takes immense satisfaction in the uplifting impact he has made on the lives of our beneficiaries. Vincent is part of a team that conducts an intake assessment for potential beneficiaries and conducting assessments to evaluate their cognitive and fine motor skills.
Vincent also conducts Community Mobility Training (CMT), aimed at guiding our beneficiaries to become independent travellers. For our beneficiaries using mobility devices, he guides them in using their mobility devices safely in the community, navigating crowded public transport vehicles and moving up and down ramps and curbs with ease.
Although the process can take up to six months, Vincent remains committed to supporting our beneficiaries in their progress. He has seen first-hand how his work has allowed our beneficiaries to lead independent lives and boost their confidence, making his work even more rewarding.
Did you know that Vincent is a multitasking pro? Not only can he flawlessly iron clothes, but he does it while indulging in his favourite Chinese Action Kung Fu films. Here's also a little secret about him: he might just be the next plant whisperer! He expertly tends to his wife's collection of plant varieties, taking great pride in keeping them healthy and thriving.
As a result of Vincent's compassionate care, our beneficiaries have been able to improve their quality of life, and we are grateful for his invaluable contribution!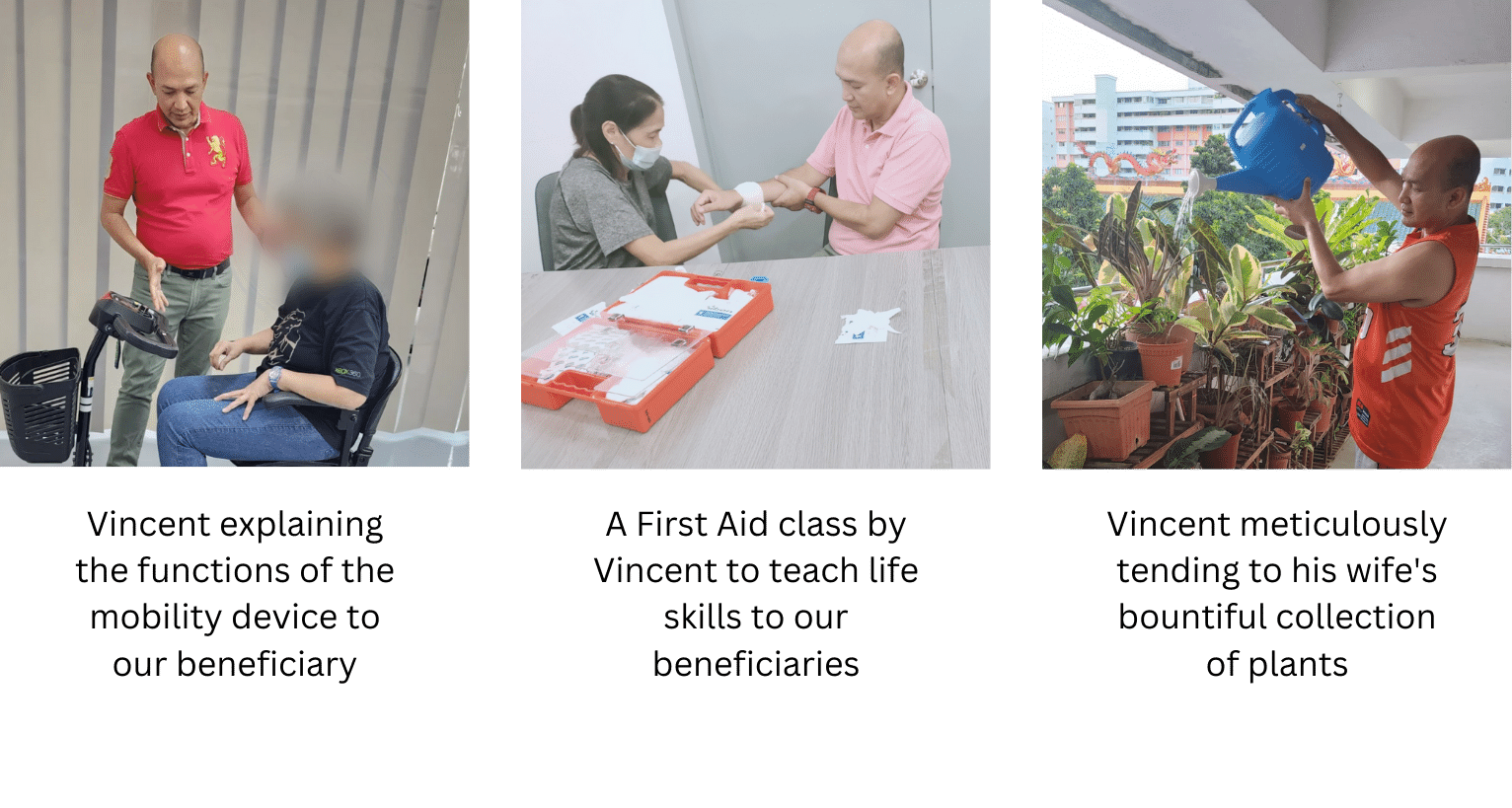 Stakeholder Engagement and Partnerships
Championing Employment Initiatives for Persons with Disabilities (PWDs)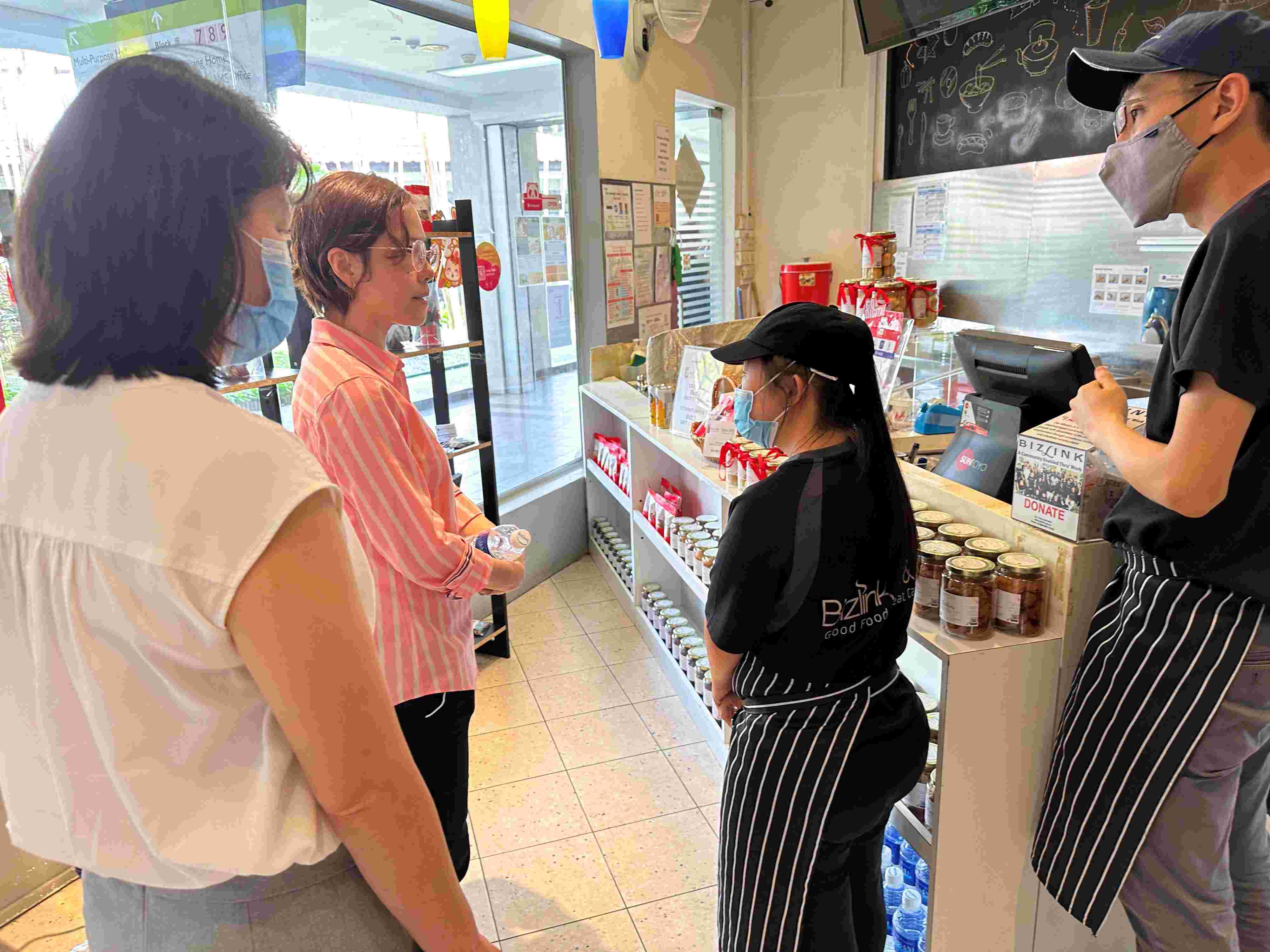 As part of their plans to create employment opportunities for our beneficiaries, staff from Remnant Holdings Pte Ltd visited our office and witnessed how our different tailored programmes prepare our beneficiaries for employment!
PWDs can be valuable assets to any workplace. Thank you for the collaboration and your commitment to inclusion and diversity!
Empowering Persons in Recovery from Mental Health Conditions
We had the privilege of hosting our strategic partner from the Singapore Association for Mental Health (SAMH) to showcase our specially curated Train-and-Place programmes designed to support persons in recovery from mental health conditions secure employment opportunities.
Employment plays a significant role in the recovery process, as it offers a sense of purpose, financial stability, and social interaction, which are all vital for mental and emotional wellbeing.
We are committed to collaborating with SAMH and our community partners to support individuals in recovery from mental health conditions in achieving their employment goals!
Corporate Social Responsibility
Creating Art and Memories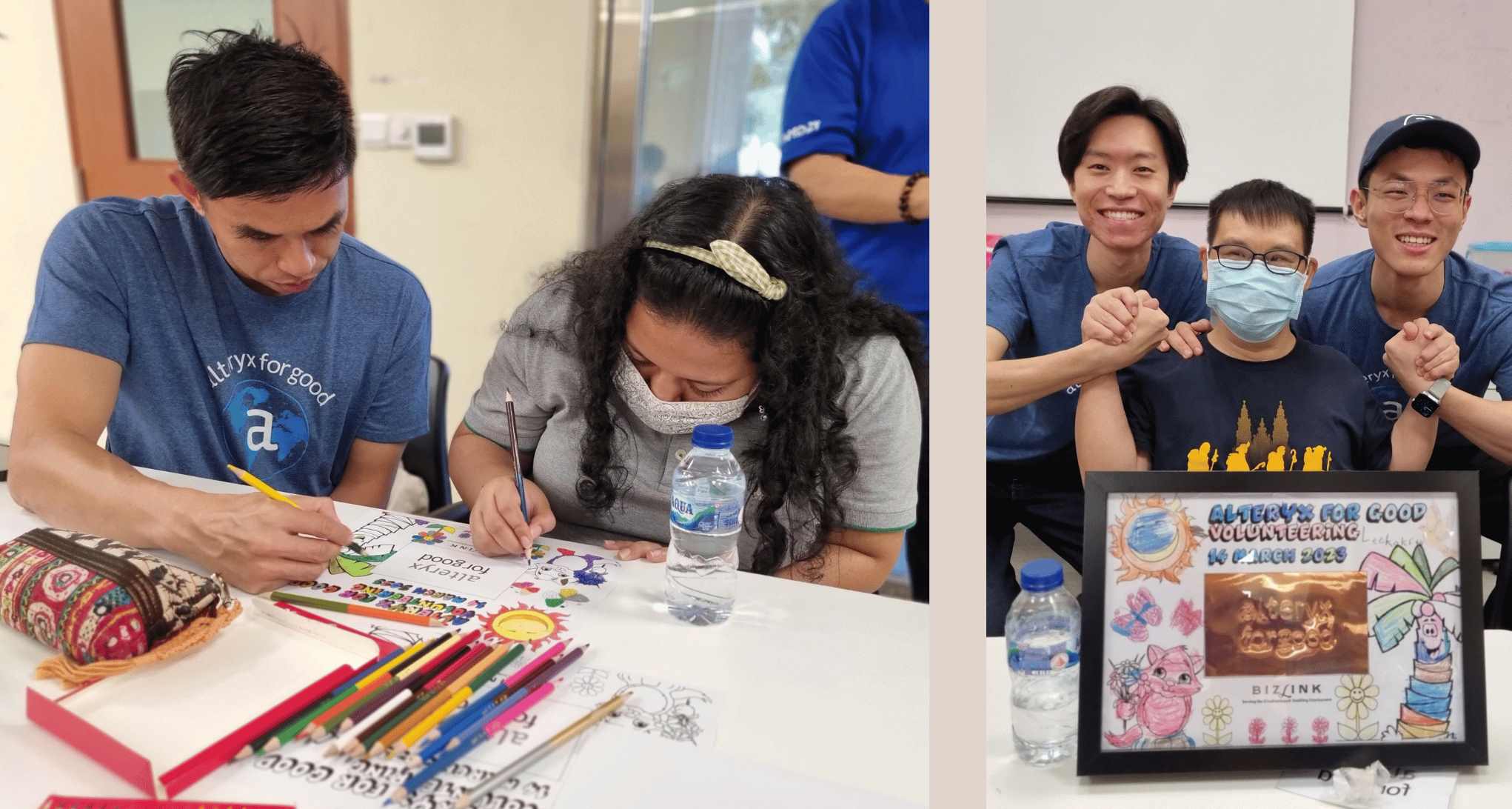 Our beneficiaries from the Day Activity Centre and Alteryx came together to co-create a copper tooling artwork!
A timeless and fascinating craft, copper tooling is a popular crafting activity that involves working with thin sheets of copper to create intricate designs and patterns. Our beneficiaries enjoyed the therapeutic activity as well as the interactions and companionship from the Alteryx staff! We valued the engagement and look forward to the next session!
A Day to Remember: Adventure and Relaxation at Tropical Sentosa Island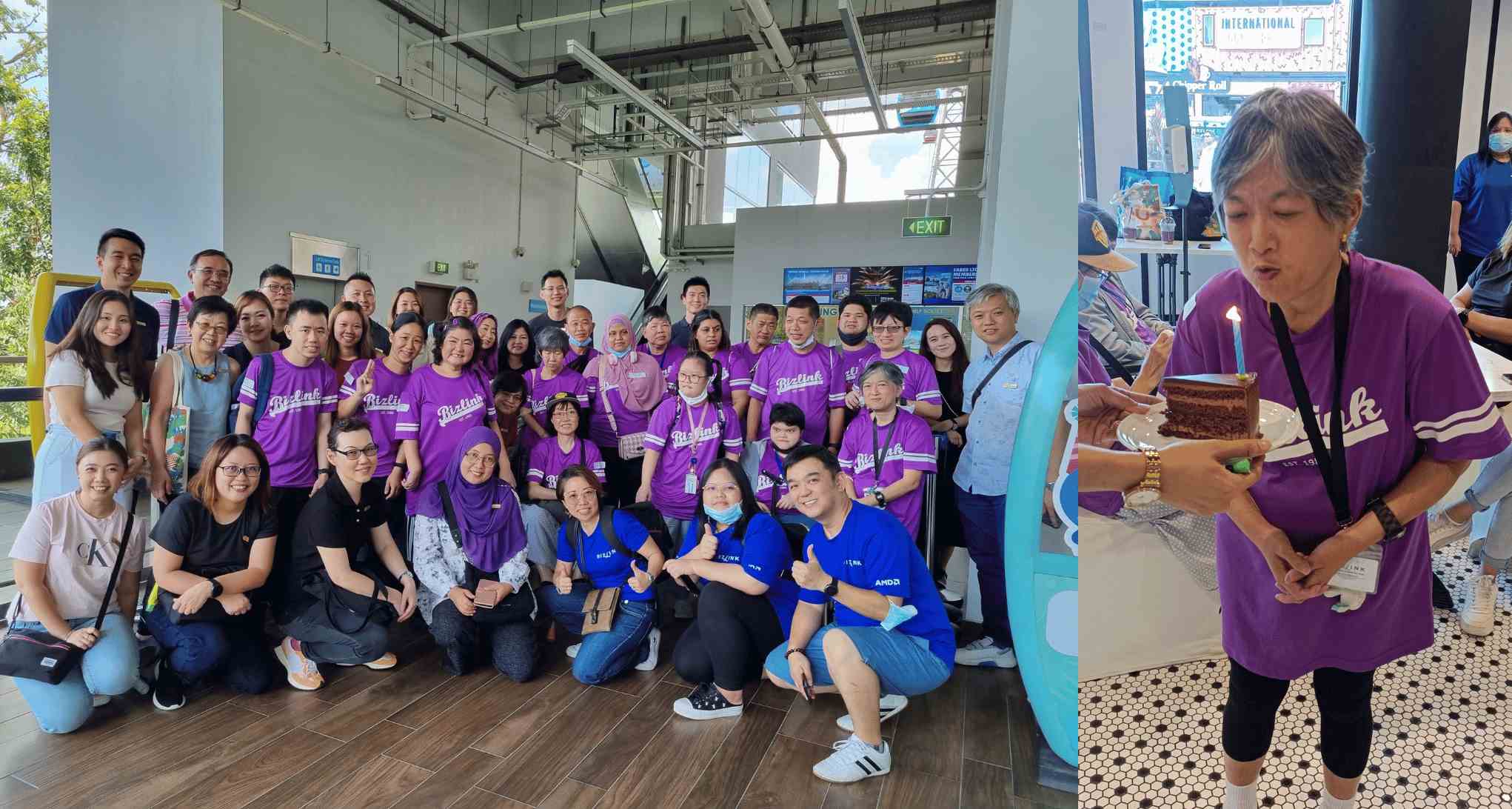 The Corporate Planning Division from Sentosa Development Corporation (SDC) organised an exciting outing for our beneficiaries on the picturesque Sentosa Island.
Our beneficiaries had a wonderful time learning about wildlife at the Sentosa Nature Discovery (SND) Centre, participated in a terrarium workshop, enjoyed a cable car ride, and savoured a sumptuous lunch. The organising committee also arranged a thoughtful surprise birthday celebration for one of our beneficiaries!
We are grateful for this enjoyable and memorable experience and extend our heartfelt thanks to SDC. We look forward to returning to Sentosa Island soon for another amazing adventure!
Community Engagement & Fundraising
Ushering in the Year of the Rabbit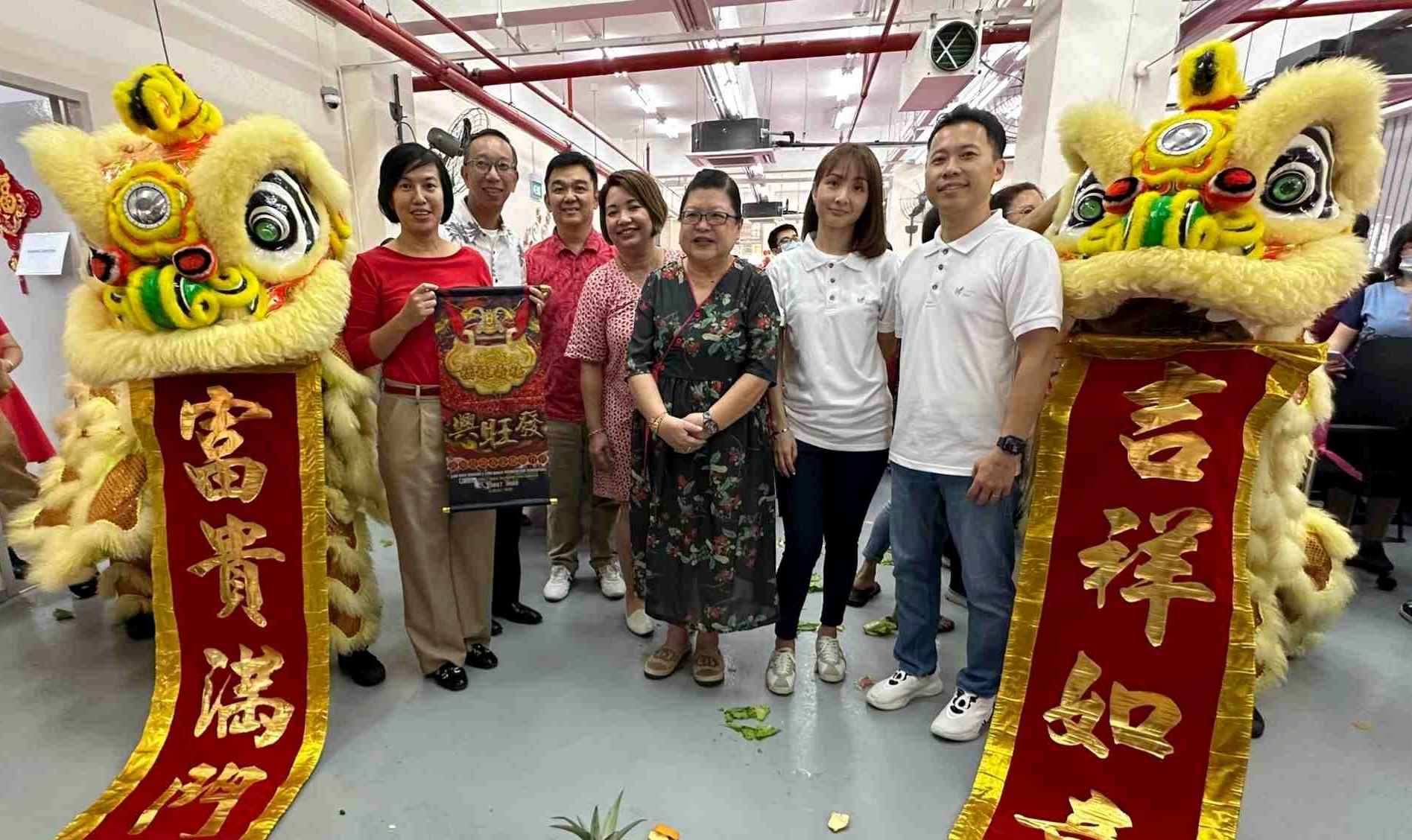 This year, we are especially grateful for the opportunity to hold a Chinese New Year (CNY) celebration with a buffet lunch, lohei session, and red packets for our beneficiaries!
Our sincere gratitude to our sponsors who had made the celebration possible. Their generosity and support have allowed us to organise a wonderful event that brought joy and happiness to our beneficiaries and staff.
Our heartfelt appreciation goes to Caring Skin Singapore, Dr. Goh Chor Boon, and Lian Ghee Dragon & Lion Dance Association (Singapore)!
May the Year of the Rabbit bring good health, happiness, and prosperity! Together we will emerge stronger and better prepared for the future!
A Night of Music and Giving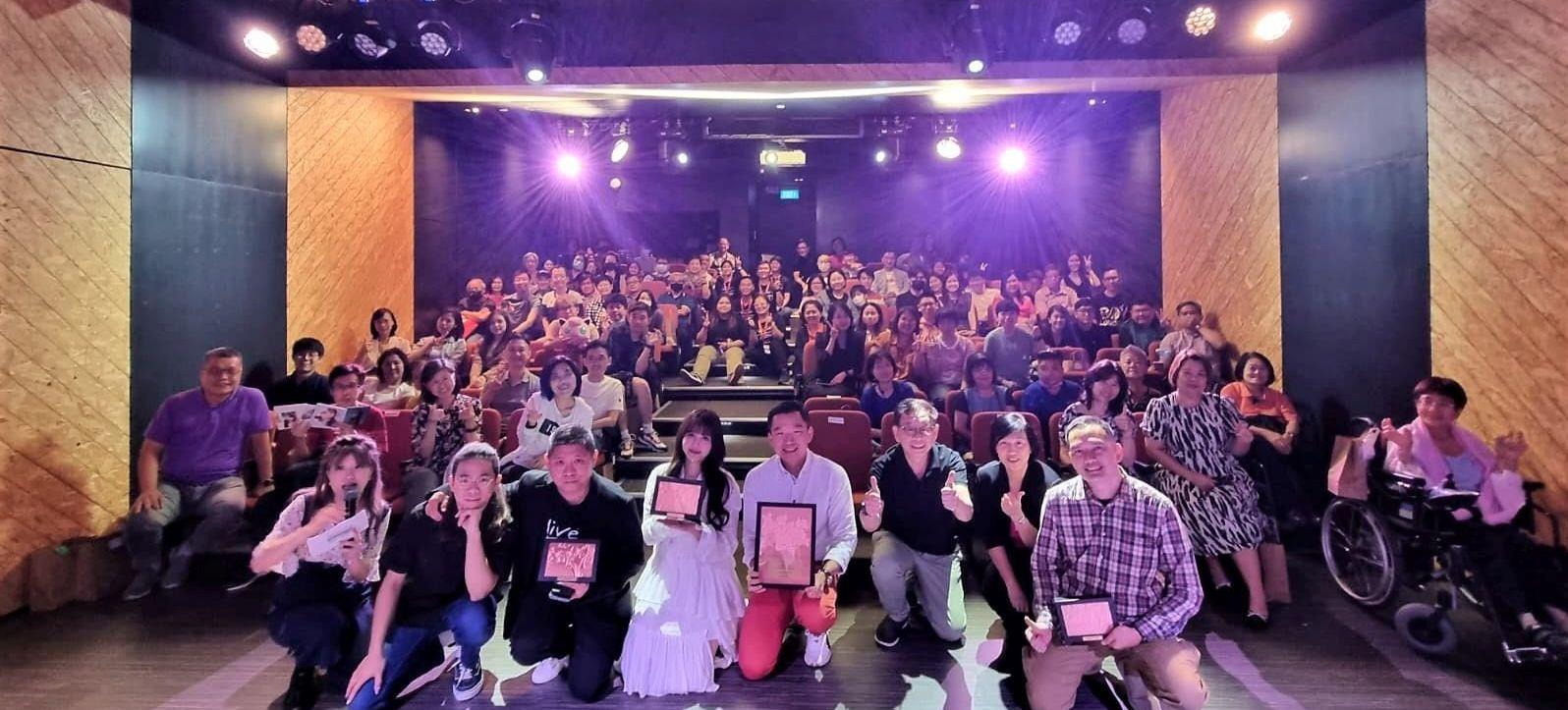 Themed "LIVE-TO-GIVE 2023", Bizlink Centre and Livehouse Singapore co-organised a charity concert, which was graced by more than 100 supporters, beneficiaries, and Senior Parliamentary Secretary Mr. Eric Chua!
The concert featured the talented Ms. Ring (琳谊), who won the Best Theme Song award at Taiwan's 57th Golden Bell Awards 2022 for her song "Oysters Love Noodles". She also dedicated her first Asia appearance to our charity concert in Singapore!
The funds raised go towards providing skills training for more than 250 beneficiaries and helping them achieve independence, dignity, and inclusion in society.
<![if !vml]>
<![endif]>
Contributing to the Community
Nurturing Our Youth to Create a Positive Impact on Others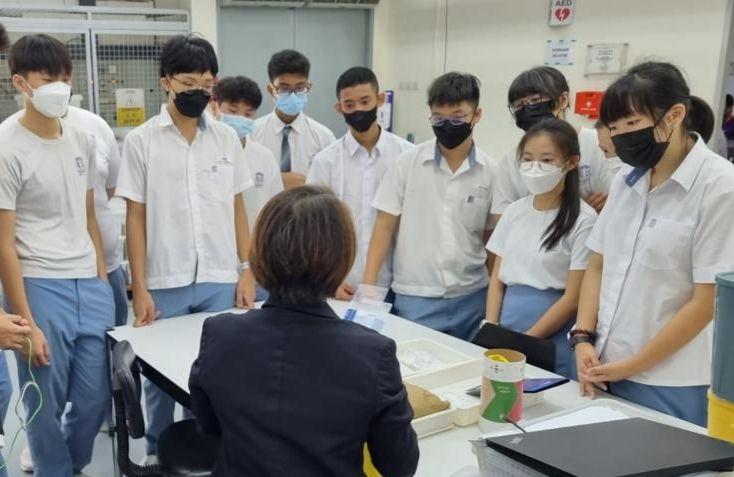 We started the year with students from Holy Innocents' High School visiting us as part of their Career Day programme.
We hope that the visit will inspire the students to care and make a positive impact on the lives of others!
Inspiring the Next Generation of Community Leaders
It was a great honour to be invited to speak at the annual Anderson Serangoon Junior College (ASRJC) Service-Learning Conference.
Into its 5th year, the conference served as a platform to provide students with an opportunity to explore ways to serve the community through interactions with different Social Service Agencies.
We hope that the conference has empowered students to act in addressing community needs and fostered their growth as compassionate servant leaders!
Celebrating Rising Community Leaders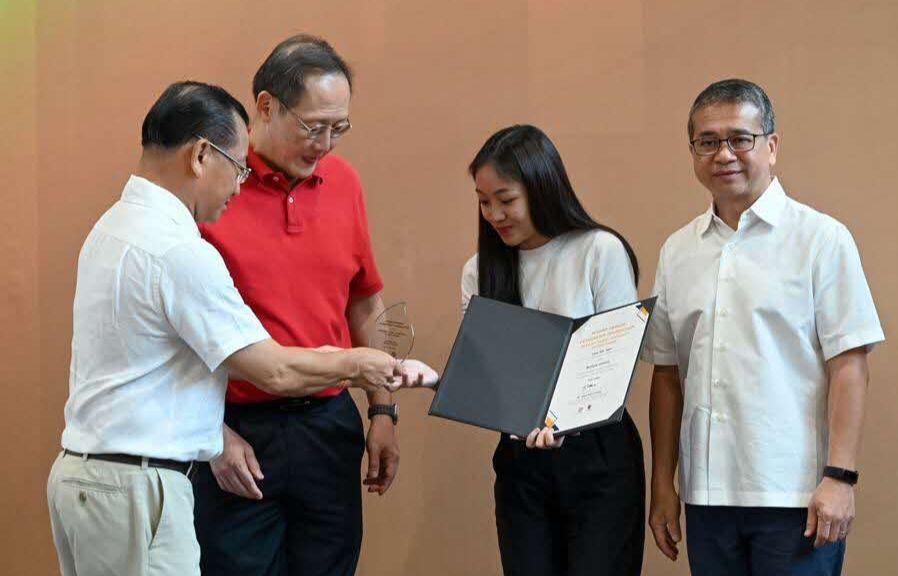 Lee Sin Yee was awarded the MARINE PARADE LEADERSHIP FOUNDATION – NEXTGEN YOUNG COMMUNITY LEADER AWARD 2022! This prestigious award, established in 2010, recognises outstanding youths who have demonstrated exemplary leadership skills and made significant contributions to their community.
As a Community Engagement and Fundraising intern at Bizlink Centre in 2021, Sin Yee demonstrated exceptional leadership qualities. She played a key role in strengthening Bizlink's volunteer framework, which led to the success of various fundraising campaigns.
We would like to extend our warmest congratulations to Sin Yee on this remarkable achievement!
Organisation Development
Strengthening Our Team: Bizlympics 2023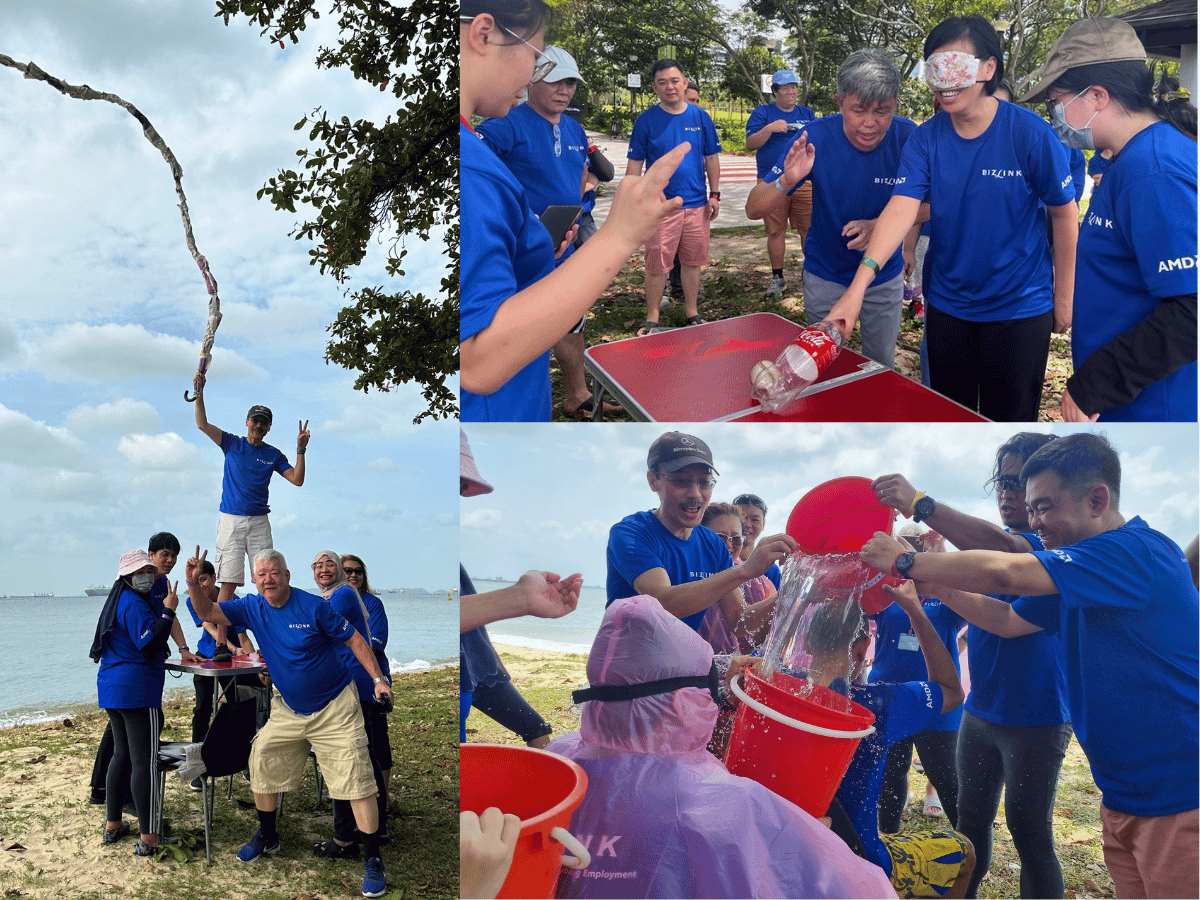 Our recent team-building event, Bizlympics 2023, was a remarkable success!
The half-day event brought together 60 colleagues from various departments, who came together and had much fun under the fine weather at East Coast Park.
The series of activities enabled our colleagues to build strong relationships and forge bonds with each other.
Stay Vigilant: Protect Yourself from Charity Fraud
Charity email frauds have been on the rise in Singapore. Scammers will send phishing emails claiming to be from reputable charities or organizations to request donations and/or personal information.
Always verify the authenticity of the organization before making any donations or sharing personal information. Legitimate emails from Bizlink Centre will end with "@bizlink.org.sg".
Bizlink Centre Singapore Ltd
512 Chai Chee Lane, #01-09, Mapletree Industrial Estate, S469028
To unsubscribe, kindly email event@bizlink.org.sg